SENBSA CASH DRAW - TICKET FORM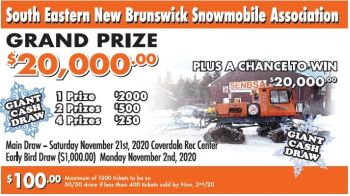 The annual South Eastern New Brunswick Snowmobile Association draw is November 21, 2020.
Maximum of 1500 tickets. 50/50 draw if less than 400 tickets sold by Nov. 2, 2020.
You can purchase your ticket(s) here by filling in the ticket information and sending your payment via etransfer to email address, "pay@senbsa.com".
If you prefer to pay by cash or credit card, please email Steve at s.mcgarrity@bestbuydistributors.ca or call 506-866-8217 for payment information.
Buy your ticket before Nov. 2, 2020 for the early bird draw of $1,000.